Wondering if your child could benefit from Speech or Feeding Therapy? Request a complimentary 15-minute consultation.
---
Did You Know? Even if your child receives Speech and/or Feeding services in school, they still qualify for Speech-Feeding Therapy through KISS ABA.
---
Results-Driven Therapy
with Trusted Professionals

As part of our personalized approach to creating optimal independence for each patient, KISS ABA proudly offers Speech & Feeding Therapy. These services are offered to all individuals who would benefit from Speech and/or Feeding Therapy, not only those receiving ABA therapy.

Benefits of Adding Speech and/or Feeding Therapy to ABA Therapy
Combination therapy can be very beneficial in rounding out the care plan for many patients. Moreover, providing such in the same environment is beneficial for the child and also supports carry-over of skills learned in the home setting.
Additional benefits include:
Cross-trained professionals: KISS ABA's Speech & Language Pathologist (SLP) is well versed in ABA therapy.
Collaborative approach of our therapy team (BCBA, RBTs, and SLP) improves communication and consistency for better overall satisfaction.
---
Areas of Need

Comprehensive Assessments & Treatment
KISS ABA offers both assessment & treatment for many disorders for ages six months through adolescence, including, but not limited to:
Articulation/Phonological

Receptive/Expressive Language
Fluency
Cognitive-Communication
Oral-Myofunctional
Autism Spectrum
Apraxia and Oral-motor
Selective Mutism
Voice
Social Language
Literacy
Feeding & Swallowing Disorders
---
Augmentative & Alternative
Communication (AAC)
Comprehensive Evaluations,
Treatment & Training
Augmentative & Alternative Communication (AAC)
Some children with speech and language challenges may benefit from Augmentative and Alternative Communication (AAC). These alternative methods enable the child to communicate more effectively and in turn he/she is also more understood by others.
There are multitudes of uniquely designed AAC tools. The collection of methods and tools that a child uses are referred to as an AAC System. Examples of tools, devices and accessories include:
Communication Books

Software/Applications
Portable Devices (e.g. Tablet or iPad)
Computer with a "voice" sometimes called a "Speech-Generating Device" or a "Communication Device" (KISS ABA also assists in obtaining these dedicated communication devices through insurance.)
Keyguards, Switches, Joysticks, Eye-gaze, etc. which some children may need to access a device.
Trust KISS ABA to Develop the Best AAC System for Your Child's Unique Needs
Because there is no "one size fits all" when it comes to an AAC System, it is important to find the right combination of AAC methods, tools, devices, and type of access methods/accessories for the communication devices for your child.
Our expert SLP will perform a comprehensive evaluation to identify the most appropriate options, then develop a custom AAC System for their unique needs. The customized treatment plan will include working with both the child and appropriate family members on how to communicate using the AAC System.
---
Feeding & Swallowing
Evaluations & Treatment
Assessment & Treatment for Feeding & Swallowing
Below is a mere sample of Feeding & Swallowing related services we offer for ages six months through adolescence:
Dysphagia
ARFID/Selecting Eating Disorder
Pediatric Feeding Disorder
Progressing to Table Foods
Texture Aversions
Hesitant Eating
Tube Feeding Concerns
GERD (Gastro Esophageal Reflux Disease)
---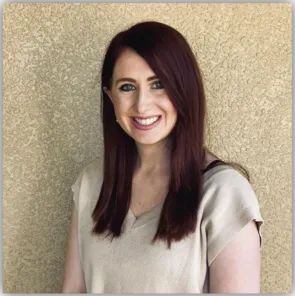 Chloe Calenzo, SLP, M.Ed.
KISS ABA's Lead Speech-Language Pathologist possesses a Masters of Education in Communication Sciences and Disorders and a Graduate Assistive Technology Certification. She has extensive experience working with individuals of all ages in various type settings, including educational, medical, at home, telehealth, and private clinics.
Her expertise in Speech-Feeding therapy and extensive Autism experience is a valuable combination. For clients receiving ABA as well as Speech/Feeding therapies, Chloe collaborates with the ABA therapy team for improved outcomes.

Additional relevant areas of expertise include working with cleft lip and palate, cerebral palsy, genetic syndromes, feeding/swallowing disorders, apraxia, developmental delays, and tethered oral tissues (TOTs).
---